The Food Fight Pilot Was Unaired Haven't Been Aired Yet And It's A Private Episode 6 Food Characters Broccoli,Orange,Ice Cream,Pear,Lemon & Pepper Were The Oringial Contestants With This Unknown Host.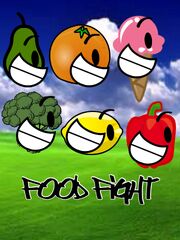 Orange Was Used To Be My Mainest Character Instead Of Apple In The Pilot.
Ice Cream & Lemon Trade There Personailties In The Pilot.
Pepper Wasn't That Much Evil In The Pilot.
This Was Aired On October 1 2012 But Jacknjellify Took It Down.
This Is The Most Object Shows With Very Less Contestants In It.
This Pilot Doesn't Have That Much Fans Yet.
The Unknown Host Is Actully Computer.
Ad blocker interference detected!
Wikia is a free-to-use site that makes money from advertising. We have a modified experience for viewers using ad blockers

Wikia is not accessible if you've made further modifications. Remove the custom ad blocker rule(s) and the page will load as expected.